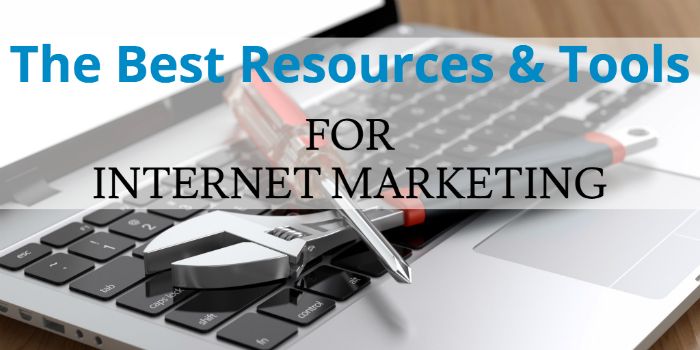 I'm often asked what Internet marketing tools, software, and services I use to help run my online businesses. So I thought it would be a good idea to provide you with a list of recommended blogging resources. Those I use to plan, build, and promote my website.
I've used many different tools and services over the years, some excellent, others not so good. To help prevent you from wasting your time and money on poor products, I'll limit this resource page to include only those that I'd use myself.
To keep on growing and to adapt to change, I'll continue to research and test more products. The more I learn, the more I can help you, so I will no doubt add to this page in the future. For this reason, I recommend that you bookmark this page for your convenience (Ctrl+D on Windows, Command+D on Mac).
To provide you with further value, I plan to create tutorials for each of the tools on this list. I'll add links to the tutorials on this page once they're done.
I hope that these resources help you as much as they've helped me. Enjoy!
Disclosure: Please note that some of the links below are affiliate links. This means that if you decide to make a purchase via one of the links, at no extra cost to you, I will earn a commission. Please understand that there are plenty of places that offer affiliate programs, but I only recommend tools, resources, etc., that I've personally used, continue to use, or come from companies/individuals that I trust. I'd never recommend anything I wouldn't use myself. Integrity is everything to me. If you buy something through one of the links, I am very grateful for your support. Thank you!
Please Note: The WordPress Plugins section of this page contains plugins that fall into many of the above filter categories. This section will only display if you select the 'WordPress Plugins' filter or have no filters selected.
My Top Recommendations
To run a business online, there are certain basics you need to have in place. Without them, your chances of success become less likely.
As you'll see on this page, there's a lot of tools you can buy to make running an online business easier.
I consider these the essentials:
Website Hosting
WordPress Theme
Page Builder
Email Marketing Service Provider
Shopping Cart (not essential but deserves a special mention)
List Building (not essential but deserves a special mention)
The All-In-One (this could save you a lot of money)
They make my life a lot easier. They automate or make quick work of long-winded and often complicated tasks. Basically, they're reliable time savers I'd rather not be without. If you try them I'm sure you'll agree.
Website Hosting
WordPress Theme
Page Builder
Email Marketing Service Provider
Shopping Cart
List Building
The All-In-One
Page Builder + Email Autoresponder + Shopping Cart + List Building + Affiliate Referral Program + So Much More…
Internet Marketing Tools
Domain Registrar
This is where you buy your domain name, also known as your website's address. e.g. internethabits.com
Website Hosting
Website hosting is a server that's set up to keep your website visible on the internet. Every website needs hosting.
The hosting you need will depend on the requirements of your website. Large, busier sites will need higher levels or storage and bandwidth.
It's good advice to go with a large well-established web hosting company for long-term stability.
If you're just getting started with a self-hosted website, I highly recommend you go with either BlueHost or SiteGround. They're both excellent companies that offer a high level of support and several low-priced plans.
Whilst it's true that you get what you pay for and there are better web hosts available, when you're just getting started, unless budget is not an issue, you should save your money and choose a cheap hosting package from a well-established company. Bluehost/SiteGround are both great value for money.
Note: If you need help to start a website, I've put together a step-by-step tutorial on how to start a self-hosted WordPress blog.
If you need a more powerful hosting solution and have a larger budget, check out the higher-priced recommendations listed below (or click here for the TL;DR version). I've done a lot of research on this this topic to save you the hassle. It will also save you from all the affiliate sites that make recommendations based on the commissions they receive, rather than having your best interests at heart.
Recommended Website Hosting
All my websites begin life hosted on Bluehost. They're affordable, offer fantastic 24/7 customer support, and they're extremely easy to use with "1-click" automatic WordPress installation. I highly recommend using Bluehost for your first site.

You get a FREE domain as part of the package too.

LOW BUDGET

▲▲▲

YOUR BUDGET

▼▼▼

HIGH BUDGET

A great alternative to BlueHost, especially if you plan to upgrade your hosting in the future and don't want the hassle of changing to a different provider.

Not only do SiteGround offer excellent cheap hosting, their more advanced plans score favourably amongst the top hosts too.

With all the features they provide such as SSD storage, the latest stable versions of PHP, HTTP/2 servers, free SSL certificates and CDN, you really can't go wrong with SiteGround. They have some of the best support available too.

If you're looking for a LiteSpeed hosting provider, look no further than NameHero. They are a great alternative to both BlueHost and SiteGround. If you're a beginner, but your budget can stretch a little further than the cost of BlueHost, then I'd choose between SiteGround and NameHero.

There are many benefits to using a LiteSpeed server for your hosting, but their free LiteSpeed Cache (LS Cache) plugin is the most popular. This is a powerful and flexible server-level cache solution built directly into LiteSpeed Web Servers.

I currently use a LiteSpeed server to host Internet Habits.

If you want affordable managed WordPress hosting, look no further than Lightning Base. Like the name suggests, they provide lightning fast hosting. They will set up caching and configure their CDN to make sure your website loads quickly for your visitors.

You get automatic backups on multiple levels to help protect your site against hardware failures and hacking. Security is also excellent with regular security scans of your site plus server and webapp firewalls in place to prevent malicious code.

As for their support, they only work with WordPress which allows them to provide a much more comprehensive service than most hosting companies.

Another company that know how to do managed WordPress hosting correctly. Like Lightning Base, they provide blazing fast performance and automatic backups.

You'll be able to set up a staging area so you can test things before launching changes on your live website. Plus, WPX Hosting offer a malware scanning and removal service. If your site is hacked, WPX Hosting will remove the malware for free.

Managed WordPress hosting at its finest.

Their features include; Nginx, HTTP/2 SSL support, SSD storage, PHP7, MariaDB, multi caching for speed and performance. Plus free site migrations, staging sites, free SSL certificates and automated backups for convenience, testing and peace of mind.

Cloudways post consistent top tier WordPress hosting performance benchmark results year on year, so their industry-leading platform really is an excellent choice.

Cloudways allows you to choose from a number of cloud providers. Options include; DigitalOcean, Linode, Vultr, Amazon Web Services and Google Cloud Platform.

Cloudways also includes a really affordable CDN add-on that you can easily enable in just a few clicks. You can then rest assured in the knowledge that your content will load fast for your visitors all around the globe.

If you want a hosting platform that offers reliable, secure and scalable managed WordPress hosting with first class support, check out Cloudways.

If you have the budget, you won't find a better WordPress host than Kinsta. Their architecture is powered by Google's Cloud Platform which provides significant speed boosts, automatic scalability and protection via Google's infrastructure.

Kinsta have partnered up with KeyCDN, a real-time HTTP/2 powered CDN, to speed up delivery of your assets (images, JS, CSS) around the globe.

Kinsta consistently delivers faultless top scores on WordPress hosting performance benchmark tests.

You only need to check out their features to understand why they offer some of the best website hosting. They provide expert support and if you buy their hosting, they'll save you a headache and migrate your site for free.

Kinsta also boasts a hack fix guarantee. If your site is somehow compromised, they'll fix it for free. How's that for service?

If you have a bigger budget or are established in your marketplace, you'll likely need to consider upgrading your hosting to a plan that can scale to your requirements.

Liquid Web is the hosting company I see recommended the most within the Internet marketing community, though that seems to be slowly swaying in favour of Kinsta. With consistently impressive performance benchmark results, there's a reason they have built up such a good reputation. Their support is top-notch too.
TL;DR Version: Recommended Website Hosting
BlueHost: You're just getting started and want a reliable low-cost solution.
SiteGround: You need a low-cost solution but you're happy to spend a couple of extra dollars each month on a shared hosting provider that takes extra care to improve WordPress page speed.
NameHero: You need low-cost hosting and want to take advantage of all the performance benefits that come with being hosted on a LiteSpeed server.
WPX Hosting: You need high-performance managed WordPress hosting and require multiple WordPress sites at an affordable price.
Cloudways: You need high-performance managed WordPress hosting and a CDN in an affordable package.
Kinsta: You want the highest-performance managed WordPress hosting and CDN package available. Speed, security, reliability and support are extremely important to you.
Liquid Web: You want high-performance hosting but prefer to manage the server yourself.
For those that are interested, I currently manage my own VPS provided by DigitalOcean. Unless you know what you're doing, this is not something I recommend. Cloudways is probably the best choice if you want to go down a similar route but with a team of experts to manage the VPS for you.
---
Website Design
In WordPress, the design of your website is based on the theme you select. There are tens of thousands of themes available for you to choose from. I recommend buying a premium theme as these are supported and updated regularly to keep up to date with WordPress upgrades and new trends. This will help to keep your blog secure. Plus, your blog will immediately look more professional with a premium theme.
The themes I recommend below are purposely listed in this order. It's the order that I currently rank the themes, with my favourite being at the top.
Website Speed
The following companies are content delivery networks (CDN). A CDN will make your website load faster for your readers all around the world. Without a CDN, your website files load from your hosting server. The further your readers are from that server, the slower your site may load for them. A content delivery network solves this problem by keeping a copy of your website's files on servers located worldwide. It will load your site's files from the nearest server to your reader. This will make your website pages load much faster.
There are also several WordPress plugins listed further down this post that can help to improve your website speed.
Website Security & Backup
Do you want your website to be hacked and risk losing all your hard work?
No, me neither. That's why it's important to secure your website and perform a regular backup. Then you can restore your site if disaster strikes.
Security
Backup
The best security for your website is an up-to-date backup. You definitely want to back up your blog regularly. Why risk losing hours, days, weeks, months… (you get the idea!) of hard work? If you want automated backups with reliable customer support, then you'll want to check out BackupBuddy and BlogVault.

Email Marketing
You may have heard the money is in the list. It's true. Building an email list is key to running a successful online business. It should be one of your top priorities from the get-go.
When choosing an email marketing service, you'll want one that's easy to set up and manage, offers awesome automation, and doesn't break the bank.
You should also choose a tag-based system over the dated list-based system. Tag-based systems allow for easier and much better management of your subscribers. They also make easy work of tasks such as sending a broadcast email to select subscribers. It's for these reasons that I no longer recommend list-based email marketing providers such as AWeber, MailChimp, etc.
Taking the above into consideration, I recommend that you choose one of the following:
For a more detailed comparison of these three email providers, check out my step-by-step tutorial on how to start a WordPress blog. The section that follows the comparison walks you through how to set up your email autoresponder to start collecting your visitors' email addresses and send automated emails.
ConvertKit is a wonderfully powerful and cost effective tag-based email marketing service that has been built from the ground up for bloggers.
They offer a similar service to the alternatives listed below but with an easier learning curve. If you're not comfortable coding, then ConvertKit may be a better match for you.
When building your email list, you can tag your subscribers based on their actions and interests. This allows you to send highly targeted emails specific to their individual needs. Targeted emails lead to better open rates and thus improved engagement with your subscribers.
Once you have subscribers, ConvertKit have an easy to use email editor with access to custom email templates which you can use to send unlimited emails.
Thanks to their user-friendly interface, setting up automations is extremely easy.
ConvertKit allows you to set up powerful automations via their visual automations editor. In addition to this, they provide tried and tested pre-built automation templates that allow you to have your autoresponder up and running in no time.
In other words, if you're looking to get up and running quickly and easily, ConvertKit is a great choice.
Other notable features include: good integrations with 3rd-party apps, broadcast resend, forms, landing pages, and A/B testing on automation emails.
ConvertKit's live chat and email support is second to none. Plus, they have an extremely active community in their Facebook group. Lots of happy users all helping each other out.
If you think ConvertKit would be a good match for you, head over to their website and sign up for an account. I highly recommend them.
They offer a Free Plan or a free trial of their paid plans. They also have a 30-day refund policy so if you decide they're not for you, simply let them know within 30 days of signing up and it won't cost you a penny.
If you're on a tighter budget, MailerLite may be email marketing solution for you.
At the time of writing, they offer a very similar feature set to ConvertKit. They too have a free plan for up to 1,000 subscribers but there are quite a few key features missing and you're limited to 12,000 emails per month, so I'd take that into consideration before you decide. However, their free plan includes email automation and that's a massive plus!
MailerLite provide 24/7 live chat and email support for their paid plans and 24/7 email support for their free plan so should you run into any problems, you'll always have help on hand.
If you're looking to introduce email marketing into your business whilst on a budget, look no further than MailerLite.
ActiveCampaign is another tag-based email marketing system that is arguably the most powerful in terms of automation.
As I mentioned in the hosting section of this page, I see the internet marketing community recommend Liquid Web more than any other host. Well, ActiceCampaign gets that crown in the email marketing space.
They have great integration with 3rd-party apps, a lovely workflow visual editor, and A/B testing on automation & broadcast emails.
One of my favourite features is their automation marketplace. It allows you to share and install other users automations. This is extremely powerful and can save you a lot of time.
ActiveCampaign offers great support via email and live chat. They don't have a Facebook group but instead choose to host their community via a forum on their website.
Note:
ClickFunnels
have a package that contains a landing page creator, list building tools, marketing funnels, an email autoresponder, a shopping cart, automated webinars and an affiliate referral program, plus more. If you plan to use all these tools in your business,
ClickFunnels
could save you a lot of money
.

Social Sharing & List Building
You create your content for others to read, right?
Social sharing tools make it easy for your current readers to share your content with their friends and followers. This increases the likelihood of your content being seen by a wider audience.
Do you want your new audience to join your email list?
Of course you do. The money is in the list:
This social sharing WordPress plugin is a newcomer compared to the likes of Social Warfare, but it's packed with a lot of functionality. There's social sharing buttons for over 30 of the most popular social networks that you can place in multiple places on your blog, style customization, share counts, social meta tags, click-to-tweet, advanced statistics and a number of handy add-ons.
In comparison to a lot of its competition, it's very easy to set up. Plus, Social Snap was carefully built with performance and security in mind so it won't slow down your website.
You know the social media share buttons that are at the top, bottom and hovering at the side of blog posts? That's what this WordPress plugin does. You can also create in-post shareable quotes for Twitter, via the click-to-tweet function. It supports all the popular social networks and you can customise the look of the buttons to match your website branding. It's also built with performance in mind so it won't slow down your site.
This awesome plugin makes it easy to create opt-in forms with its simple drag-and-drop editor. You can create pop-up lightboxes, "sticky" ribbons, opt-in forms, 2-step opt-in forms, and slide-ins all within the same plugin. It also has great segmentation and built-in split testing to help boost your conversions further. I'm very glad I found this little gem. Highly recommended!
You can get access to Thrive Leads as part of Thrive Suite.
With similar features to Thrive Leads, Optin Monster is one of the best lead generation softwares available for your website. With the ability to create beautiful opt-in forms in minutes, you'll be well on your way to growing your email list in no time.
Take your opt-in form creation and lead generation to another level with this software platform. ConvertBox is the new kid on the block and it's hands down the easiest to use.
As with the alternative solutions, there's multiple styles of opt-in forms you can choose from to deliver high-converting messages. There's lead segmentation, deep integration with your email marketing software, and the ability to show you message to the right visitor at the right time. You can even target specific visitors with personalised messages using powerful behaviour targeting rules.
Plus, if you really take your marketing seriously, you can split test your opt-in forms and track everything in real-time with their detailed analytics.
The flexibility of what you can do with this platform is outstanding. In fact, there's too many features to list here. I highly recommend you check out ConvertBox.
Face it, people love to take a quiz. They're much more fun than a survey, and they make you curious to find out your result. Interact is a tool for creating online quizzes. You can use it to segment your audience based on how they answer a question or dependent on their results.
Interact can also be used to personalize your website and most importantly, to grow your email list/capture leads. It integrates with most major email marketing and marketing automation systems.
If you need additional ways to interact with your audience, check out Involve.me below.
If you need to create interactive content for your website such as quizzes, surveys, calculators, and forms, Involve.me could be the platform you need.
It's a great tool for gathering feedback from your audience and used correctly, it can be used to rapidly grow your number of email subscribers. Involve.me can even be used to create payment forms, landing pages and sales funnels.
Do you want to run viral giveaways, contests and sweepstakes? What about a viral product launch? You can do it all with UpViral. Get your visitors to bring you even more visitors by enticing them with a prize or reward if they invite their friends or followers. UpViral will then follow-up with those that take part, emailing reminders, setting goals, and providing ongoing incentives to keep them promoting to increase their chance of winning.
The result? A potential huge increase in traffic and subscribers. Powerful!
This is an alternative to UpViral. Viral Loops is an all-in-one referral marketing platform that helps you create viral giveaways, contests, and rewards. They provide tried and tested templates that let you design custom referral programs in minutes without having to reinvent the wheel.
Referrals are one of the most powerful marketing and sales tools available.
If you'd prefer to use a WordPress plugin instead, I recommend RafflePress. You can find more information in the WordPress plugins section further down this page.
Note: Also see LeadPages below. It's a list building and landing page creator all-in-one.

Landing Pages / Page Builders
If you will be promoting products and services or running webinars and competitions, you'll need a way to create landing pages.
Landing pages are pages on your website that a visitor can arrive at or "land" on. They're designed with a single goal in mind and should have no menus or links to take visitors to other pages on your site. The limited options help to keep the reader's focus on the goal of the page. In most cases, the goal is to collect a name and email address and/or make a sale.
By default, it's unlikely WordPress and your theme will be good enough to create a high-converting landing page. Fortunately, these tools make it easy:
This is the best tool available for creating high-quality mobile responsive landing pages with ease. With a huge selection of templates that are proven to convert your viewers into subscribers (or buyers), you'll be able to create opt-in, sales, webinar, and thank you pages within minutes. If you want to customise these templates or build a page from scratch, you can via their drag-and-drop visual page editor. LeadPages has an awesome built-in split testing feature and works with both WordPress and non-WordPress sites.
There's also a list building feature they call LeadBoxes that allows you to create pop-ups, 2-step opt-in forms and exit pops.
As a key goal of a landing page is to collect email addresses, LeadPages integrates with all major email marketing providers, plus other marketing and sales applications.
With regards to building landing pages, ClickFunnels is similar to LeadPages. It too provides a large selection of templates, a drag-and-drop page editor and list building features. There's also integrations with all major marketing and sales applications.
Where ClickFunnels shines is its ability to link all of your marketing pages together to form smart sales funnels. With a few clicks of your mouse, you can create a load of different sales funnels, including opt-in funnels, sales funnels, webinar funnels, membership sites, and more!
Note:
ClickFunnels
have a package that contains a landing page creator, list building tools, marketing funnels, an email autoresponder, a shopping cart, automated webinars and an affiliate referral program, plus more. If you plan to use all these tools in your business,
ClickFunnels
could save you a lot of money
.
For those of you that want a cheaper alternative to LeadPages, I recommend OptimizePress. Although it's not as easy to use as LeadPages, it's a lot more flexible so you'll be able to create pretty much any kind of page you need. Please note that unlike LeadPages, OptimizePress only works with WordPress websites.
Another cost efficient choice is Thrive Architect. The team at Thrive Themes provide you with dozens of conversion optimised landing page templates. You can edit these and build pages from scratch with the drag-and-drop page builder. I've used this WordPress plugin to build entire websites. You can get access to it as part of Thrive Suite.
Thrive Architect will work on any WordPress theme. It's not limited to Thrive themes.
On the subject of page builders, Beaver Builder is a great plugin that makes modifying existing themes easy with their drag-and-drop builder.
Let's say you have a theme but you can't get your homepage (or any other post or page) to look the way you'd like it to. Activate Beaver Builder and edit away. No coding required!
Their front end editor allows you to see what you're doing and gives you total control over the layout of your pages. It's as easy and dragging and dropping.
The Beaver Builder page builder can be used with any theme. In fact, Beaver Builder also has an optional framework theme. It's great if you're looking for a highly customisable, well-supported, theme.
When I say well-supported, I mean it. Their support is amazing. They really do go above and beyond.
I couldn't mention Beaver Builder without also mentioning Elementor. They're both great WordPress page builder plugins. You'd have to compare both to see which best suits your individual requirements.
Elementor is another page builder with drag-and-drop functionality that becomes even more powerful if you purchase the Pro version. It unlocks the page builders full potential and allows you to design and build high-quality websites without having to edit complicated code.
This includes the ability to design Headers and Footers which means you really can control the look of every single part of your website.
As you'd expect, it works seamlessly with almost any WordPress theme.