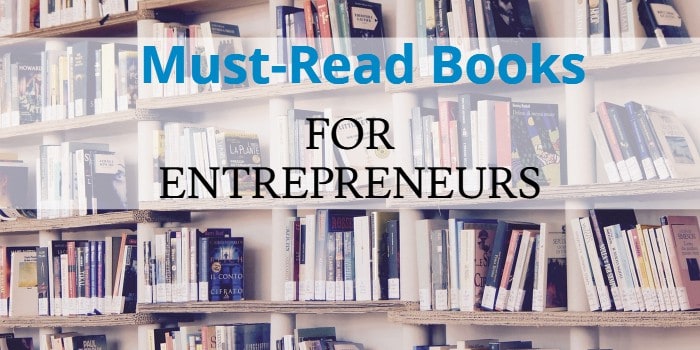 I think you'll agree with me when I say:
Books are a cheap, quick and easy way of improving your knowledge.
But there's a problem…
How do you select the best books to read on your chosen topic? You don't want to waste your time and money on bad books. You want to buy those that will be beneficial…
…books that will help you to achieve your goals.
Most people rely on book reviews. However, there's a downside to this logic. In most cases, you have no idea who wrote the review.
Would you not prefer book recommendations from successful businessmen and entrepreneurs? People that have taken action and applied the knowledge they acquired from the books. People who know from experience that the information is valuable.
Well, that's exactly what you will find below on this page. A list of must-read business books recommended by top businessmen and entrepreneurs.
Read the Right Book at the Right Time
Something I learned from Darren Hardy (CEO, Success Magazine) was to concentrate on just one area of your life or one skill that you want to improve.
That skill once developed and executed excellently would have the greatest impact on your career/life. It would help you accomplish your current most important goal.
Once identified, you should research the best resources to help you improve and further develop that skill, and then buy:
The best 5 books on that topic
The best 3 audio programs on that topic
A ticket for 1 seminar on that topic
Once you have consumed the information from your purchases, make notes and then pick out those that are most useful.
Here's why:
You won't be able to do everything at once.
It's important that you take what you've learned and reduce it down to the best three ideas. From those ideas, pick just one and implement it immediately.
Doing must follow learning.
Knowing what to do is not the same as doing what you know. You must implement what you learn, or to put it another way:
Once you are confident that you have familiarised yourself with this new skill, move onto the next idea.
Now, simply repeat this process until you have attained your goal. Once that's done, move onto your next goal.
Following this goal-setting, skill-seeking, action taking cycle will help you to achieve great things.
Invest in Yourself
High-achievers have several things in common. One of these is that they're continuously striving to better themselves. They devote a lot of time and effort into personal development.
Personal development is a process that involves assessing your skills and qualities, contemplating what you want to achieve in life and then settings goals to help you get there. To achieve these goals, you need to increase self-awareness and knowledge and improve personal skills.
You improve skills through practice whereas you attain knowledge via various sources of information, i.e. text, audio, visual.
You can acquire information from the internet, books, audiobooks, videos, online courses, seminars, lectures, etc. Often it's free but if you want the best information on a certain topic presented in an order, that's easy to follow, it's more likely that you'll have to pay for it.
I'm a firm believer that we should all be striving towards continuous improvement and that is why you should invest in personal development.
If you think about it, personal development materials and coaches are essentially free. If they help you improve and, as a result of that, earn more money, then they effectively pay for themselves.
In fact, according to Brian Tracy, an investment in personal development more than pays for itself:
If you want things to change for the better, you have to change. The best way to achieve this change?
Invest in yourself.
Must-Read Books for Entrepreneurs
If you'd like to jump straight to books in a certain category, please use the following contents box:
Inspirational Books
Most of us can do with a little inspiration every now and then to keep us moving forward. The stories of those that have had great achievements are a great place to start.
Anyone Can Do It by Duncan Bannatyne

From an ice cream van to Dragons' Den – the autobiography of self-made multi-millionaire Duncan Bannatyne.
At 30, Duncan had no money. He saw a story of someone who had made himself a millionaire, and decided to do the same. Five years later he had done it, at the time of publication, he was worth £168 million.

Instant Motivation: The surprising truth behind what really drives top performance by Chantal Burns

This book will change how you think about what drives you to succeed. Compelling evidence combined with inspiring stories and insights will unlock a powerful new mindset that will instantly boost your performance and open your eyes to what it really takes to excel.

It's Not How Good You Are, It's How Good You Want To Be by Paul Arden

This uplifting and humorous little book provides a unique insight into the world of advertising and is a quirky compilation of quotes, facts, pictures, wit and wisdom – all packed into easy-to-digest, bite-sized spreads.

It's Not What You Think by Chris Evans

The number one Sunday Times bestseller – the witty and energetically written autobiography of Chris Evans.
The story of how one council estate lad made good, really very good, and survived – just about – to tell the tale…

Memoirs Of A Fruitcake by Chris Evans

Sunday Times Celebrity Book of the Year 2010.
This carries on Chris' story right where he left off in his first book, It's Not What You Think. He was rich, famous, and now the owner of his own radio station and media company. What could possibly go wrong?

Losing My Virginity: How I Survived, Had Fun, and Made a Fortune Doing Business My Way by Richard Branson

The number 1 international bestselling autobiography of entrepreneur Sir Richard Branson.
Losing My Virginity is one of my favourite autobiographies. It's a fun account of how Richard started his first business and grew it into the multinational corporation we know today. Plus all of the excitement in between…

Screw It, Let's Do It by Richard Branson

In Screw It, Let's Do It, Richard shares the secrets of his success and the invaluable lessons he has learned over the course of his remarkable career. He also looks to the future and shares his plans for taking his business and his ideas to the next level.

Shoe Dog: A Memoir by the Creator of NIKE by Phil Knight

"A refreshingly honest reminder of what the path to business success really looks like … It's an amazing tale" ~ Bill Gates
A great read, you will not be disappointed.

Steve Jobs: The Exclusive Biography by Walter Isaacson

Steve Jobs: The Exclusive Biography is the definitive portrait of the greatest innovator of his generation.
Bestselling author Walter Isaacson provides an extraordinary account of Jobs' professional and personal life.

The Alchemist: A Fable About Following Your Dream by Paulo Coelho

This is one of my favourite fiction books.
The story follows Santiago, a young shepherd, on a journey to realise his "Personal Legend". It's a beautiful parable that's inspired people all over the world to live their dreams.

The Art of Being Brilliant: Transform Your Life by Doing What Works For You by Andy Cope

Being brilliant, successful and happy isn't about dramatic change, it's about finding out what really works for you and doing more of it! The authors lay down their six common-sense principles that will ensure you focus on what you're good at and become super brilliant both at work and at home.

The Motivation Manifesto: 9 Declarations to Claim Your Personal Power by Brendon Burchard

The Motivation Manifesto is a pulsing, articulate, ferocious call to claim our personal power. World-renowned high performance trainer Brendon Burchard reveals that the main motive of humankind is the pursuit of greater Personal Freedom.

The Obstacle is the Way: The Ancient Art of Turning Adversity to Advantage by Ryan Holiday

If you're feeling frustrated, demoralized, or stuck in a rut, this book can help you turn your problems into your biggest advantages. And along the way, it will inspire you with dozens of true stories of the greats from every age and era.

What You See Is What You Get: My Autobiography by Alan Sugar

Alan Sugar was born in 1947 and brought up on a council estate in Hackney. As a kid he watched his dad struggle to support the family. It had a huge impact on him, fuelling a drive to succeed that was to earn him a personal fortune.
Like the man himself, this autobiography is forthright, funny and sometimes controversial.

Your Ultimate Calling: 365 Ways To Bring Inspiration Into Your Life by Dr Wayne W. Dyer

Daily inspiration for each day of the year (or when you need it).

Entrepreneurship Books
So you think you've got what it takes to start a new business? These books will provide you with direction so you know what steps to take to not only get your business started, but also grow it into a success.
24 Assets: Create a digital, scalable, valuable and fun business that will thrive in a fast changing world by Daniel Priestley

This book sets out a method for building a business that becomes a valuable asset. It focuses you on transforming your organisation into something scalable, digital, fun and capable of making an impact. It's time to, stand out, scale up and build a business that has a life of its own.

6 Months to 6 Figures by Peter Voogd

Most Entrepreneurs struggle with inconsistent income, low productivity, and don't have enough time in a day to get everything they want done. Peter shows you the fastest and most effective ways to maximize your income, get bigger things done in less time, and helps you create your ideal lifestyle.

Anything You Want: 40 Lessons for a New Kind of Entrepreneur by Derek Sivers

In this book, the author tells you everything he learned from starting, growing, and selling CD Baby. All compressed into an entertaining and useful one-hour read.

Business Adventures by John Brooks

"The best business book I've ever read" ~ Bill Gates
This business classic written by longtime New Yorker contributor John Brooks is an insightful and engaging look into corporate and financial life in America.

Crush It!: Why NOW Is the Time to Cash In on Your Passion by Gary Vaynerchuk

Gary Vaynerchuk shows you how to use the power of the Internet to turn your real interests into real businesses.
By the end of this book, you will have learned how to harness the power of the Internet to make their entrepreneurial dreams come true. Step by step, Crush It! is the ultimate driver's manual for modern business.

Dear Entrepreneur: Letters from Those That Have Made it And Are Making It Happen by Danny Bailey

Do you want to leave your 9-5? Do you want to be your own boss? Are you an entrepreneur?
Dear Entrepreneur is an unmissable collection of candid and inspiring letters from business founders who have been there and done it or who are building successful businesses right now.

Entrepreneur Revolution: How to develop your entrepreneurial mindset and start a business that works by Daniel Priestley

Entrepreneur Revolution is a master class in gaining an entrepreneurial mind-set, showing you how to change the way you think, the way you network, and the way you make a living. Successful entrepreneur Daniel Priestley will show you how to embrace the Entrepreneur Revolution and thrive in the new age.

Evil Plans: Escape the Rat Race and Start Doing Something You Love by Hugh MacLeod

Everybody needs an EVIL PLAN. Everybody needs that crazy, out-there idea that allows them to ACTUALLY start doing something they love, doing something that matters. Everybody needs an EVIL PLAN that gets them the hell out of the Rat Race, away from lousy bosses, away from boring, dead-end jobs that they hate. Life is short.

Evolved Enterprises: An Illustrated Guide Re-Think, Re-Image and Re-Invent Your Business to Deliver Meaningful Impact & Even Greater Profits by Yanik Silver

How to shift your company beyond being transactional to truly transform and even transcend business…forever. Evolved Enterprise is an illustrated journey for 21st century entrepreneurs ready to explore how greater purpose, joy and meaningful impact create fierce brand loyalty, marketplace leadership and deliver exceptional profits.

Get Off Your Arse by Brad Burton

Need more appointments? Need more sales? Need more motivation? Need no-nonsense advice? Read this book.
Brad Burton takes us on a personal rollercoaster ride, from telling his employer to shove his job up his arse, £25,000 in debt and no income, to MD of a fast-growing national business.

Go it Alone: The Streetwise Secrets of Self-employment by Geoff Burch

This book provides essential information for anyone who wants to get out of the rat race to work as a free agent or start their own business. From the ins and outs of writing a business plan, to how to win customer loyalty, Geoff Burch in his usual provocative and anecdotal style gives the common sense advice you've been waiting for.

Growing A Business by Paul Hawken

A common sense approach to growing a business.

How To Get Rich by Felix Dennis

"Making money is a knack, a knack that can be acquired. And if someone like me can become rich, then so can you – no matter what your present circumstances. Here is how I did it and what I learned along the way." So writes Felix Dennis. He believes anyone of reasonable intelligence can become rich, given sufficient motivation and application.

How To Win At The Sport Of Business by Mark Cuban

Mark Cuban provides a catalogue of insider knowledge on what it takes to become a thriving entrepreneur. He tells his own rags-to-riches story of how he went from selling powdered milk and sleeping on friends' couches to owning his own company and becoming a multi-billion dollar success story.

I Don't Work Fridays – Proven strategies to scale your business and not be a slave to it by Martin Norbury

This book shares a story of successful start-ups, multi-million-pound rescues and family tragedy before focusing on the practical 'how-to' for you so you can take the steps needed to take your business from where it is now into multiples of profit.

Maverick Startup by Yanik Silver

Shattering the myth that you need money to make money, serial entrepreneur and millionaire Yanik Silver reveals the 11 X-Factors to turn your big idea into even bigger profits—without taking on debt, partnering with outside investors, or even writing a business plan.

Multiple Streams Of Internet Income by Robert G. Allen

This book features the original seven powerful methods that average people can use to make money on the Internet, and covers such topics as taking offline products online, niche marketing, successful Web-based business models, information marketing, affiliate programs, and more.

Poke the Box by Seth Godin

Why has Poke the Box become a cult classic?
Because it's a book that dares readers to do something they're afraid of. It could be what you need, too.
"A one-two punch! Half kick in the ass, half cheerleading encouragement." ~ Steven Pressfield, The War of Art

Ready, Aim, Fire by Michael Masterson

Ready, Fire, Aim has what you need to succeed in your entrepreneurial endeavors.
Self-made multimillionaire and bestselling author Masterson outlines a focused strategy for guiding a small business through the four stages of entrepreneurial growth.

Resilience: How to conquer the fear and challenges of self-employment by Fraser J. Hay

Many self-employed individuals work in isolation without help, guidance or support on how to conquer the many fears, issues and challenges that self-employment can present. Fraser shares his journey in self-employment and the many challenges he embraced and conquered in the early days of working for himself.

Rework: Change the Way You Work Forever by Jason Fried & David Heinemeier Hansson

Rework is the perfect playbook for anyone who's ever dreamed of doing it on their own.
"If given a choice between investing in someone who has read REWORK or has an MBA, I'm investing in REWORK every time. A must read for every entrepreneur." ~ Mark Cuban, co-founder HDNet, owner of the Dallas Mavericks

The $100 Startup: Fire Your Boss, Do What You Love and Work Better To Live More by Chris Guillebeau

You no longer need to work nine-to-five in a big company to pay the mortgage, send your kids to school and afford that yearly holiday. You can quit the rat race and start up on your own – and you don't need an MBA or a huge investment to do it.

The 4-Hour Work Week: Escape the 9-5, Live Anywhere and Join the New Rich by Tim Ferriss

"The 4-Hour Workweek is a new way of solving a very old problem: just how can we work to live and prevent our lives from being all about work? A world of infinite options awaits those who would read this book and be inspired by it!" ~ Michael E. Gerber

The 7 Day Startup: You Don't Learn Until You Launch by Dan Norris

From generating ideas to gaining your first paying customers, The 7 Day Startup is the bootstrapper's bible for launching your next product.

The E-Myth Revisited: Why Most Small Businesses Don't Work and What to Do About It by Michael E. Gerber

Gerber walks you through the life of a business from entrepreneurial infancy, through adolescent growing pains, to the mature entrepreneurial perspective: the guiding light of all businesses that succeed. Most importantly, he draws the vital, often overlooked distinction between working on your business and working in your business.

The Lean Startup: How Constant Innovation Creates Radically Successful Businesses by Eric Ries

Rather than wasting time creating elaborate business plans, The Lean Startup offers entrepreneurs – in companies of all sizes – a way to test their vision continuously, to adapt and adjust before it's too late. Ries provides a scientific approach to creating and managing successful startups in a age when companies need to innovate more than ever.

The Millionaire Fastlane: Crack the Code to Wealth and Live Rich for a Lifetime! by MJ DeMarco

If you want to create the type of wealth that will change your life (I'm talking about $100,000+/per month here, not the typical guru swan song "make 10K a month" crap) you truly have to ditch the freaking 9-5, tear up the old plan, and get kicking on a new roadmap. I call it "Fastlane Entrepreneurship". ~ M.J. DeMarco

The Millionaire Master Plan: Your Personalized Path to Financial Success by Roger James Hamilton

The Millionaire Master Plan is a unique and fresh approach as to how you can not only get a sense of where you stand on the spectrum of personal wealth, but more importantly, how you can learn to ascend from your present state to a higher level.

The Millionaire Messenger by Brendon Burchard

The Millionaire Messenger reveals how everyday people can share their life's lessons and advice with others and earn a fortune in the process. Author Brendon Burchard reveals a 10-step plan for making an impact and an income with what you know.

The Mindful Entrepreneur: How to rapidly grow your business while staying sane, focused and fulfilled by Joel Gerschman

If you feel like a slave to your business rather than master of it, The Mindful Entrepreneur is for you.
Fusing proven, cutting-edge business strategy with powerful mindfulness practices, you'll learn an immediately practical, holistic approach to achieving business success and personal fulfilment.

The School of Greatness: A Real-World Guide to Living Bigger, Loving Deeper, and Leaving a Legacy by Lewis Howes

A framework for personal development, you'll discover the tools, knowledge, and resources you need to reach your potential. Howes anchors each chapter with a specific lesson he culled from his greatness "professors" and his own experiences to teach you how to create a vision, develop hustle, and use dedication to reach your goals.

Start With Why: How Great Leaders Inspire Everyone To Take Action by Simon Sinek

Why do we do what we do? Why do we exist? Learning to ask these questions can unlock the secret to inspirational business. Sinek explains what it truly takes to lead and inspire and how anyone can learn how to do it.

Tycoon by Peter Jones

In Tycoon, Peter offers his personal insight into the qualities and skills he believes every successful entrepreneur possesses. His Ten Golden Rules provide key building blocks for turning your ideas into successful businesses.

Unlabel – Selling You Without Selling Out by Marc Ecko

As instructive as it is innovative, Unlabel will empower you to channel your creativity, find the courage to defy convention and summon the confidence to act and compete in any environment. It's a bold and honest approach to building an authentic personal brand, and a roadmap for growing a start-up into a sustainable business.

Your Move: The Underdog's Guide to Building Your Business by Ramit Sethi

This no-nonsense guide distills the most important lessons Sethi learned building his dorm room blog into an 8-figure-a-year company.
If you want to build a business that makes you an extra 5-figures a month, this book will show you how.

Zero to One: Notes on Start Ups, or How to Build the Future by Peter Thiel with Blake Masters

The great secret of our time is that there are still uncharted frontiers to explore and new inventions to create. In Zero to One, legendary entrepreneur and investor Peter Thiel shows how we can find singular ways to create those new things. It starts by learning to ask the questions that lead you to find value in unexpected places.

Strategy Books
If you want your business to continue to grow, you must work on the business, not just in the business. That's where strategy comes into play.
90 Days To Profit: A Proven System to Transform Your Business by Erlend Bakke

Discover the 7-steps to profits…
In 90 Days To Profit turnaround experts, Erlend Bakke and Steve Shoulder teach you how to transform a struggling business from zero to profit in record time.

Blue Ocean Strategy by W. Chan Kim & Renee Mauborgne

Based on over a decade-long study of 150 key strategic moves spanning more than a hundred years and thirty industries. Discover a systematic approach to making the competition irrelevant, outlining principles and tools any organization can use to create and capture their own "blue oceans" – untapped new market spaces ripe for growth.

Good Strategy/Bad Strategy: The difference and why it matters by Richard Rumelt

If you want a book on strategy, this is the one I recommend.
Learn not just how to develop an effective or "good" strategy, but, just as important, how to recognize when you have implemented a bad strategy.

Branding Books
In short, branding is the way your customer perceives you. It goes way beyond a memorable logo. Good branding increases the value of your company, makes customer acquisition easier, and provides your employees with direction and motivation. With strong branding, you will set business apart from the competition.
Build A Brand In 30 Days by Simon Middleton

Simon Middleton shows you how to create, manage and communicate your brand profoundly and effectively, in just 30 days, by following 30 clear exercises. How you work through the book is up to you, the result will be the same: an authentic, compelling, and highly distinctive brand that will attract and engage customers and fans.

Don't Make Me Think: A Common Sense Approach to Web Usability by Steve Krug

If you're planning to spruce-up your website to make it a more enjoyable experience for your visitors, this book by Steve Krug is a great place to start.

The 22 Immutable Laws of Branding by Al Ries & Laura Ries

How to build a product or service into a world-class brand.
This book documents the 22 key principles of branding starting with "expansion" and "contraction" followed by "publicity" and "advertising."

Marketing Books
If you have a great product or service then you want people to know about it. That's what marketing is all about. These books will show you what is required for good marketing.
Ask by Ryan Levesque

Ryan walks you through exactly how he's helped generate over $120 million dollars in revenue and 52,000 email subscribers per day in 23 different markets (and counting) using a slightly counter-intuitive methodology named the "Ask Method." The book shows you how you can use the same process for yourself…in practically any market.

Buzz Marketing: Get People to Talk About Your Stuff by Mark Hughes

Buzzmarketing explores the six secrets of great word-of-mouth campaigns and shows how any company can thrive by pursuing a buzz-driven strategy rather than just hoping for a lucky break.

Content Machine: Use Content Marketing to Build a 7-figure Business With Zero Advertising by Dan Norris

Content Machine outlines a strategy for using content marketing to build a 7 figure business with zero advertising. By teaching the fundamentals of content marketing, how to create great content and how to stand out from the crowd, it simplifies the otherwise challenging process of creating content with impact.

Dotcom Secrets by Russell Brunson

DotComSecrets is a shortcut. Inside you will find the actual playbook Russell and his team created after running thousands of tests and perfecting what works online.
Click here to get this book for free.

Expert Secrets by Russell Brunson

"Expert Secrets Is The Map That Will Allow You To Turn Your Specialized Knowledge, Talents and Abilities Into A Business That Will Work For You! This Is One Of The Shortcuts of The New Rich" ~ Robert Kiyosaki
Click here to get this book for free.

Guerrilla Marketing: Cutting-edge strategies for the 21st century by Jay Conrad Levinson

This book has become a classic in the field of business, revolutionising marketing for small businesses all over the world and creating a new way to understand market share and how to gain it. The "Sixteen Monumental Secrets of Guerilla Marketing" make this a worthy purchase.

Guerrilla Marketing and Joint Ventures: Million Dollar Partnering Strategies for Growing ANY Business in ANY Economy by Jay Conrad Levinson

This book explains step-by-step how entrepreneurs can use smarter marketing and joint ventures to generate maximum profits from minimum investments.

How To Blog For Profit by Ruth Soukup

Whether you have been blogging for years or just a few weeks, How to Blog For Profit offers solid advice and practical action plans for creating an authentic, successful, and profitable blog.
It's worth grabbing for the Pinterest strategy alone.

Launch by Jeff Walker

Jeff Walker, the creator of Product Launch Formula, shares his formula to sell almost anything online, build a business you love, and live the life of your dreams. Tiny home-based businesses have used this formula to produce launches that sold tens of thousands… hundreds of thousands… and even millions of dollars in just a few days.

Oversubscribed: How to Get People Lining Up to Do Business with You by Daniel Priestley

This book is a recipe for ensuring demand outstrips supply for your product or service, and you have scores of customers lining up to give you money. It explains how to become oversubscribed, even in a crowded marketplace and provides practical tips alongside inspiring examples to alter your mindsets and get you bursting with ideas.

Platform: Get Noticed in a Noisy World by Michael Hyatt

If you're serious about taking yourself, your business, or your product to the next level, you can't succeed without a platform. This is your chance to take out the guesswork, frustration, and wasted time/money that come with building yours the wrong way. Michael shares tried and true tactics that get results.

The 22 Immutable Laws of Marketing by Al Ries & Jack Trout

The 22 Immutable Laws of Marketing can mean the difference between success or failure for your product or company. Learn how to avoid the danger of ego and arrogance, the need to understand trends, and many other crucial marketing lessons. This book shows how to play by the rules and become a winner in your field.

The Automatic Customer: Creating a Subscription Business in Any Industry by John Warrillow

Subscription is the key to increase cash flow, igniting growth and boosting the value of your company. Whether you want to transform your entire business into a recurring revenue engine or just pick up an extra 5 per cent of sales growth, The Automatic Customer will be your secret weapon.

The Power of Why: Breaking Out In a Competitive Marketplace by C. Richard Weylman

The Power Of Why will give you keen insight into what customers really want in today's marketplace. Step-by-step Richard Weylman illustrates how to change the way you position and promote your company and its products and services so that your value is clear and your company is distinct from all others.

Trust Me, I'm Lying: Confessions of a Media Manipulator by Ryan Holiday

An eye opening book about media manipulation. Ryan explains exactly how the media really works, shares his manipulator secrets and leaves you to choose what you do with the information.

Your First 1000 Copies: The Step-by-Step Guide to Marketing Your Book by Tim Grahl

This is a system that any author can immediately put in place to start building their platform. Whether you're a seasoned author looking to step into the new publishing landscape, or you're a brand new author, Your First 1000 Copies will give you the tools to connect with readers and sell more books.

Sales Books
You have a great product or service. Potential customers know about it, but they're not buying. What do you do? You learn how to sell. There books will teach you how.
How To Master The Art Of Selling by Tom Hopkins

This is a great book on selling.
After he learned the world's best sales techniques, Tom Hopkins applied his new skills and earned more than one million dollars in just three years. In this book, Hopkins shows how you can succeed in the profession of selling.

Pitch Anything: An Innovative Method for Presenting, Persuading, and Winning the Deal by Oren Klaff

One truly great pitch can improve your career, make you a lot of money and even change your life. Success is dependent on the method you use, not how hard you try. "Better method, more money… Much better method, much more money" says Klaff. If you want to learn how to pitch, read this book.

The Ultimate Sales Machine: Turbocharge Your Business with Relentless Focus on 12 Key Strategies by Chet Holmes

I believe this is one of the best sales and marketing books ever written.
The Ultimate Sales Machine shows you how to tune up virtually every part of your business by spending just an hour per week on each impact area you want to improve – sales, marketing, management, and more.

Triggers: 30 Sales Tools You Can Use to Control the Mind of Your Prospect to Motivate, Influence, and Persuade by Joseph Sugarman

Dramatically increase your ability to sell by learning how to control the mind of your prospect using 30 powerful psychological triggers to motivate, influence and persuade.

Writing Books
If you're planning to publish content, whether it's online, in a magazine, or even a book, your writing is a skill that can always be developed further. These books will help you to improve your writing.
Accidental Genius by Mark Levy

This is a book all about freewriting. If you struggle with writers block, this book should help.

Bird by Bird: Instructions on Writing and Life by Anne Lamott

This is one of the best books on the topic of writing that I've come across. It's an enjoyable read that balances both humour and personal advice about the writing process. The book's title comes from advice that the author's father gave to her brother, who was struggling to write a report on birds, "Bird by bird, buddy. Just take it bird by bird."

On Writing: A Memoir of the Craft by Stephen King

On Writing is both a textbook for writers and a memoir of Stephen's life and will. If you've always wondered what led him to become a writer and how he became one of the bestselling authors of all time, this answers those questions. It's a revealing and practical view of the writer's craft, comprising the basic tools of the trade every writer must have.

You Are a Writer (So Start Acting Like One) by Jeff Goins

In You Are a Writer, Jeff Goins shares his own story of self-doubt and what it took for him to become a professional writer — and how you can follow the same path. He gives you practical steps to improve your writing, get published in magazines, and build a platform that puts you in charge.

Financial Management Books
Financial Management is important. You must manage your finances to prevent overspending and to account for all expenditures. These books will help to keep you on top of your finances. After all, no one wants a nasty surprise from the tax man.
Automatic Wealth: The Six Steps to Financial Independence by Michael Masterson

In Automatic Wealth, self–made millionaire Michael Masterson draws upon his own experience and that of experts in the fields of retirement, investing, and real estate to offer you a complete program on achieving financial independence.

Do This. Get Rich!: 12 Things You Can Do Now to Gain Financial Freedom by Jim Britt

The title of this book speaks for itself and is the promise Jim makes to the reader: Do This. Get Rich!. Follow Jim's guidelines and you will succeed as an entrepreneur. Period! You won't get rich doing exactly what Jim did, so there are no hard and fast rules. Rather, this book contains a compass and a very detailed map.

Low Cost High Life: Live an Affordable Life of Luxury by Mark Homer

Mark Homer became a financially free multi-millionaire businessman investor by the time he was in his early 30's. In this unique book, he shows you in his renowned analytical, detailed and controversially sceptical nature how you can realistically achieve the low-cost high life for the long term, in the shortest possible timeframe.

Rich Dad, Poor Dad by Robert Kiyosaki

Rich Dad Poor Dad tells the story of Robert Kiyosaki and his two dads, his real father and the father of his best friend, his rich dad, and the ways in which both men shaped his thoughts about investing. You don't need to earn a high income to be rich, find out the difference between working for money and having your money work for you.

The Intelligent Investor: The Definitive Book on Value Investing by Benjamin Graham

The greatest investment advisor of the twentieth century, Benjamin Graham taught and inspired people worldwide. Graham's philosophy of "value investing", which shields investors from substantial error and teaches them to develop long-term strategies, has made this book the stock market bible ever since its publication in 1949.

The Millionaire Next Door: The Surprising Secrets of America's Wealthy by Thomas J. Stanley

The bestselling The Millionaire Next Door identifies seven common traits that show up again and again among those who have accumulated wealth. Most of the truly wealthy in America don't live in Beverly Hills or on Park Avenue-they live next door.

The Richest Man In Babylon by George S. Clason

This book provides very simple but sound financial advice. If you're struggling with your finances and want to get them under control, it's worth a read.

Management & Leadership Books
If you want to become a better leader and your success depends upon the people you manage, these books will give you an understanding of what is required and how to get there.
Delivering Happiness: A Path to Profits, Passion and Purpose by Tony Hsieh

Tony shares the lessons he has learned in business and life, from running a pizza business, through LinkExchange, Zappos, and more. Tony shows how a very different kind of corporate culture is a powerful model for achieving success and how by concentrating on the happiness of those around you, you can dramatically increase your own.

Good To Great by Jim Collins

Can a good company become a great one and, if so, how? After a five-year research project, Collins concludes that good to great can and does happen. In this book, he uncovers the underlying variables that enable any type of organization to make the leap from good to great while other organizations remain only good.

Made To Stick by Chip & Dan Heath

Made to Stick is a book that will transform the way you communicate ideas.
It shows you the principles of successful ideas at work and how you can apply these rules to making your own messages "stick."

Million Dollar Coach: The 9 Strategies That Drive A 7-Figure Coaching Business by Taki Moore

This book is essential reading for coaches of all experience-levels and types and is of particular value for anyone looking to start a coaching business to short cut growing pains and quickly rise to become a high-level coach.

Talk Like TED: The 9 Public Speaking Secrets of the World's Top Minds by Carmine Gallo

Communications coach Carmine Gallo has broken down the top TED talks and interviewed the most popular TED presenters to uncover the nine secrets of all successful TED presentations. Gallo provides a step-by-step method that makes it possible for anyone to deliver a TED-style presentation that is engaging, persuasive, and memorable.

The Art of War by Sun Tzu

A classic that's well worth a read, even in our modern age. You will find that many of Sun Tzu's principles can be applied to everyday life.

The Coaching Habit: Say Less, Ask More & Change the Way You Lead Forever by Michael Bungay Stanier

The Coaching Habit gives you seven questions and the tools to make them an everyday habit. Master them, and you'll be able to work less hard and have more impact.