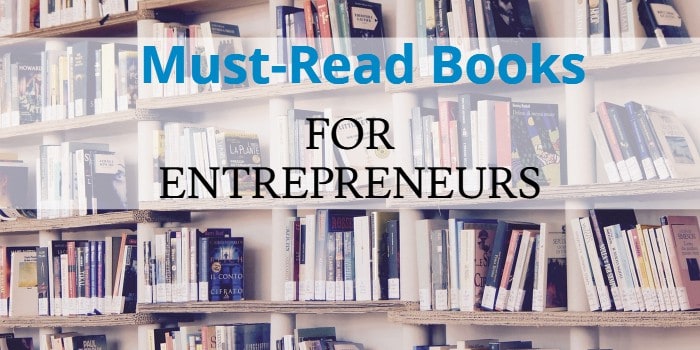 I think you'll agree with me when I say:
Books are a cheap, quick and easy way of improving your knowledge.
But there's a problem…
How do you select the best books to read on your chosen topic? You don't want to waste your time and money on bad books. You want to buy those that will be beneficial…
…books that will help you to achieve your goals.
Most people rely on book reviews. However, there's a downside to this logic. In most cases, you have no idea who wrote the review.
Would you not prefer book recommendations from successful businessmen and entrepreneurs? People that have taken action and applied the knowledge they acquired from the books. People who know from experience that the information is valuable.
Well, that's exactly what you will find below on this page. A list of must-read business books recommended by top businessmen and entrepreneurs.
Read the Right Book at the Right Time
Something I learned from Darren Hardy (CEO, Success Magazine) was to concentrate on just one area of your life or one skill that you want to improve.
That skill once developed and executed excellently would have the greatest impact on your career/life. It would help you accomplish your current most important goal.
Once identified, you should research the best resources to help you improve and further develop that skill, and then buy:
The best 5 books on that topic
The best 3 audio programs on that topic
A ticket for 1 seminar on that topic
Once you have consumed the information from your purchases, make notes and then pick out those that are most useful.
Here's why:
You won't be able to do everything at once.
It's important that you take what you've learned and reduce it down to the best three ideas. From those ideas, pick just one and implement it immediately.
Doing must follow learning.
Knowing what to do is not the same as doing what you know. You must implement what you learn, or to put it another way:
Once you are confident that you have familiarised yourself with this new skill, move onto the next idea.
Now, simply repeat this process until you have attained your goal. Once that's done, move onto your next goal.
Following this goal-setting, skill-seeking, action taking cycle will help you to achieve great things.
Invest in Yourself
High-achievers have several things in common. One of these is that they're continuously striving to better themselves. They devote a lot of time and effort into personal development.
Personal development is a process that involves assessing your skills and qualities, contemplating what you want to achieve in life and then settings goals to help you get there. To achieve these goals, you need to increase self-awareness and knowledge and improve personal skills.
You improve skills through practice whereas you attain knowledge via various sources of information, i.e. text, audio, visual.
You can acquire information from the internet, books, audiobooks, videos, online courses, seminars, lectures, etc. Often it's free but if you want the best information on a certain topic presented in an order, that's easy to follow, it's more likely that you'll have to pay for it.
I'm a firm believer that we should all be striving towards continuous improvement and that is why you should invest in personal development.
If you think about it, personal development materials and coaches are essentially free. If they help you improve and as a result of that earn more money then they effectively pay for themselves.
In fact, according to Brian Tracy, an investment in personal development more than pays for itself:
If you want things to change for the better, you have to change. The best way to achieve this change?
Invest in yourself.
Must-Read Books for Entrepreneurs
If you'd like to jump straight to books in a certain category, please use the following contents box: