Welcome to Internet Habits
My mission is to help you achieve your business goals.
Let me help you start a website, develop a personal productivity system and gain the skills you need to make money online (without it taking over your life)
The goal is to work less and make more.
Below you'll find the steps you should take…
Take The Quick Start Quiz
Pressing play on the video(s) will set a third-party cookie. Please read our cookie policy for more information.
Disclosure of Material Connection: Some of the links in this post are "
affiliate links
." This means if you click on the link and purchase the item, I will receive an affiliate commission. Regardless, I only recommend products or services I use personally or believe will add value to my readers. I am disclosing this in accordance with the Federal Trade Commission's
16 CFR, Part 255:
"Guides Concerning the Use of Endorsements and Testimonials in Advertising."
I'm Here To Help You
I'm Pete Williams, the creator of Internet Habits. My goal with this blog is to help you achieve more.
If you'd like more info in relation to me and the website, check out the About page.
If you're here because you want to:
start an online business
develop new habits to help you achieve more
…then you're in the right place.
I'm here to provide you with honest online business advice.
I'll take action, test and then share with you what works. That's what Internet Habits is all about.
I lead by example.
Step 1: Take Action
This website is for you if you're committed to growing yourself and/or your business so you can reach your potential and succeed.
Whether you're new to blogging or looking for ways to improve yourself, this page is designed to point you in the right direction so you get started on the right foot.
The content on Internet Habits is written in an easy to follow format to make learning nice and simple.
The best way to reinforce learning is to put it into action, so choose a relevant step below and get started!
Here's an easy action step to get the ball rolling:
Subscribe to Internet Habits – It's Free!
If you haven't already, subscribe to the mailing list. It's the easiest way for me to help you.
Plus, you'll also receive exclusive email-only content.
Step 2: Setup Your Online Marketing Platform
To run any business online, you need a platform from which you can operate. Once this is set up, you can work on creating the systems that allow you to make money online without needing to be present.
In other words, you put in the hard work upfront and then continually reap the rewards later.
Sounds good right?
It certainly is good, but it's not easy. There's a lot of hard work required to make money online and it takes time. If you're looking for a get rich quick scheme, go get scammed by the internet marketers that prey on false hope.
I'm here to tell you the truth and share with you what works, but it's down to you to put in the effort and take action.
Choose Your Marketing Platform
When setting up an online business, your marketing platform needs to be a website. At this point you have two choices:
A free option such as Blogger, Tumblr, or WordPress.com
This is a relatively easy choice. The free options are very limited:
Restricted control over website design, functionality, optimisation and monetisation
Your domain name will be an extension on the service provider's name (e.g. If I chose Tumblr as my platform for Internet Habits, the website address would be https://internethabits.tumblr.com/ instead of https://internethabits.com/)
Most Importantly: You're vulnerable to any changes made by the service provider you choose.
What happens if you break their terms and conditions?
| | |
| --- | --- |
| They could remove your website and you would lose your business. | FAIL! |
What if the service provider closes?
| | |
| --- | --- |
| Again, you would lose your business! | FAIL! |
Recommended: Self-Hosted WordPress Website
These risks and limitations are why I recommend you avoid the free options and make the sensible decision, choosing to set up a self-hosted website.
It's the more professional choice, and it gives you full control.
To self-host a website, you need to purchase hosting. The hosting company I recommend you use for your first website is BlueHost. I trust this company and it's where Internet Habits started out.
For a step-by-step guide on how to set up a self-hosted WordPress blog, please check out my tutorial. It's easier than you think:
Note: To avoid any confusion, I should point out that WordPress offer an option for both choices. A self-hosted WordPress blog is different to the free option that's available at WordPress.com.
Step 3: Get The Tools To Make Your Life Easier
If you're interested in the tools, services and apps I use and recommend to help run a blog, check out the Resources page.
I consider these, the essentials:
Plain and simple, you need somewhere to host your website.
Bluehost are ideal for your first website. They're cheap, reliable and provide good customer support.
You can switch to a more expensive, managed web host once your website has a large audience and good income. When starting out, save your money and go with Bluehost.
TRY BLUEHOST
GeneratePress is hands down one of the best themes available for WordPress, especially if you care about performance. In combination with GenerateBlocks, this lightweight, block-based theme builder allows you to build virtually anything without touching a line of code.
It's written with the latest coding standards, which will make your site compatible with future changes to the web. It's also mobile responsive, cross-browser compatible and follows all WordPress security best practices.
It prioritises the essentials for your website to achieve optimal performance for your visitors and search engines.
It's not just the theme that's great either. If you need any help, the GeneratePress support team are fantastic.
Whether you're building a website for eCommerce or to blog, GeneratePress has you covered.
You could also check out the WordPress themes by StudioPress (if you can code), Blocksy (great for beginners), or the all-in-one option, Divi from Elegant Themes.
TRY GENERATEPRESS
Having an email list for your business is an absolute necessity. So it makes sense to have a tool that'll help you to build a list. That's where LeadPages comes in.
LeadPages is a super easy to use tool for creating high-quality landing pages. With tons of templates that are proven to convert your viewers into subscribers (or buyers), you'll be able to create opt-in, sales, webinar, and thank you pages within minutes. It also comes with split testing, built-in analytics and conversion stats so you'll be able to tweak your pages to capture even more leads. LeadPages works with both WordPress and non-WordPress sites.
TRY LEADPAGES
Step 4: Develop Your Personal Productivity System
Once you have the platform to market from and the tools to help build and captivate your audience, you can benefit from a productivity system to help you get things done.
The following posts will help you to develop a productivity system that is personalised to you:
Step 5: Marketing: Make Money From Your Website (or Blog)
Once you have a website, you need to create content, promote that content, and offer your readers something to buy.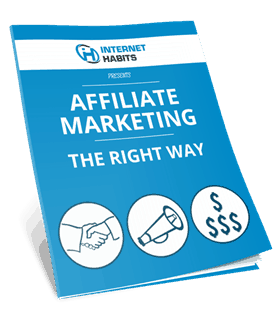 This doesn't have to be your own product, you can promote someone else's as an affiliate.
Affiliate marketing is when you promote someone else's products or services and share the profits from the sale.
When done correctly, affiliate marketing can be very lucrative.
It has been responsible for a huge part of my success online.
To help you replicate some of that success, I've created this free guide to share my top affiliate marketing tips:
Step 6: Invest In Yourself
Stop and think for a second…
Is there anything you want to get better at?
Assuming the answer is yes, would you rather figure out how to get better at it by yourself or learn from people that have already accomplished it?
It makes sense to shorten your learning curve. That's where the following information resources come in handy:
Books
I'm a huge fan of books. They're one of the easiest ways to invest in yourself.
Do you want to learn from the world's best businessmen and women?
Read their books. They usually share their best ideas, thoughts and experiences.
You can be mentored by the best in the world just by reading their books.
For a list of my favourite and recommended books, check out My Bookshelf.
Courses
Working through a course and then implementing what I've learned is probably my favourite way to develop new skills.
Formal education will make you a living. Self-education will make you a fortune.
Jim Rohn
I enjoy online courses in particular because they allow me to progress at my own pace from the comfort of my home office. Plus, in most cases, you don't have to apply to be enrolled in the course. You buy what you want and get instant access.
My Resources page contains a list of some of my favourite online courses.
Seminars
Seminars are a great way to learn with the added benefit of networking.
Why is networking beneficial?
Networking allows you to build relationships that could deliver results in the future.
You could develop a relationship that presents you with a lucrative business opportunity. Opportunities like joint ventures, speaking and writing gigs, partnerships, etc.
What happens if you run into a problem and need advice?
There are some things that Google can't answer. But someone in your network may be able to point you in the right direction.
You could even arrange regular get-togethers in the form of a mastermind. This is where a group of people with common goals and interests get together to help each other work through challenges using the collective intelligence of each other.
Plus, people in your network may even help to promote you.
Oh, and there's always this:
Thank You
Finally, I'm a big believer in gratitude. I appreciate you!
Thank you for taking the time to read my content. I hope that Internet Habits becomes a useful resource to you both now and in the future.
If I've helped you, please let me know about your successes. If I can help you further, please let me know how.
If it relates to a specific blog post, leave me a message in the comments section below that post.
If it's for anything else, your best bet is to follow me on social media and drop me a message there:
Facebook Group: Asking a question in the Internet Habits Facebook Group is beneficial for a few reasons:

A member of the Internet Habits community may have the answer and be able to respond faster, saving us all time.
Other group members may learn something too.

Twitter: Quick, easy to use, and reliable. You may not get a response as fast as via the Facebook Group.
Failing that, please read the Contact page on this site.
I look forward to hearing from you.
To Your Success!
Pete Williams